Featured Artists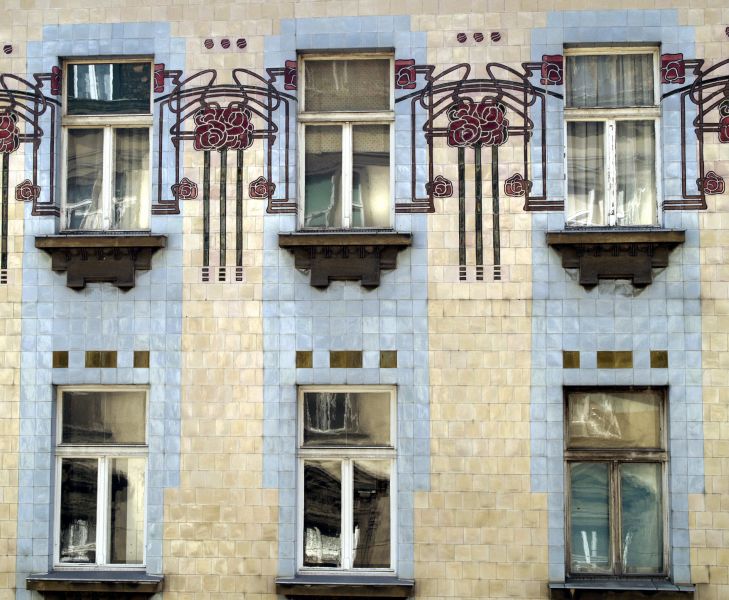 Vjekoslav (Alois) Bastl (Přibram, Czech Republic, 1871 – Zagreb, Croatia, 1947) graduated from the Architectural Department of the Royal State Building School in Zagreb in 1896. From 1896 to 1899 he worked in Hönigsberg & Deutsch atelier, one of the most important and most active building and architectural studios in Zagreb. In 1899, he enrolled in Akademie der bildenden Künste in the class of famous architect Otto Wagner. That same year, the prestigious journal Der Architekt published Bastl's project for the Pečić pharmacy and apartment house which was later built in Zagreb's Ilica Street. He graduated from Wagner's Spezialschule in 1902, and for his graduating thesis the Palace of Occult Sciences (Palača okultnih znanosti) he received the Gundel's prize.
When he returned from his studies to Zagreb, he began to work for Hönigsberg & Deutsch atelier again, and from 1906 he worked in his own architectural office. He was a joint founder of the Croatian Architects Club (Klub hrvatskih arhitekata) alongside Viktor Kovačić (who was also Wagner's student), and with architects Stjepan Podhorsky and Edo Schön in 1905 in Zagreb. From 1910 he was a professor at the Zagreb Building School. Vjekoslav Bastl was the first Croatian architect to introduce in his works the aesthetics of Viennese Wagner's Secession.
Bastl realized projects with characteristics of Wagnerschule during his work in Hönigsberg & Deutsch atelier: Chamber of Commerce and Trades and Commercial and Trades Museum (Trgovačko-obrtnička komora i Trgovački muzej) (1901-1903), Rozsay apartment house (stambena zgrada Rozsay) (1904), Dr Rado Commercial and Residential Building (trgovačko-poslovno-stambena zgrada dr. Eugen Rado) (1904-1905), E. V. Feller Commercial and Residential Building (trgovačko-stambena zgrada Eugen Viktor Feller) (1905-1906).
In the corpus of Bastl's projects created under the auspices of Hönigsberg & Deutsch atelier probably the most important place belongs to commercial and residential buildings built for stoves and tiles manufacturer, Gustav Kallina.
Kallina Commercial and Residential Building (1903 – 1904) was modeled after the famous Wagner's Majolikahaus in Vienna - its facade was completely covered with decorative ceramic tiles. Thus, the house represented a gigantic commercial of its owner's activities, and testified of the technological achievements of his factories (because the tiles used on the facade, as opposed to imported tiles on Majolikahaus, were produced in Kallina's Zagreb factory). In the European context it is important as a third building ever constructed with facade covered entirely with ceramic tiles: first is the aforementioned Majolikahaus (1898), the second Portois & Fix Commercial and Residential Building (architect Max Fabriani, Vienna, 1899 – 1900).
After the First World War, Bastl mainly designed in the spirit of the interwar neo (neo) Classicism. Among his later works, project of Zagreb marketplace Dolac is significant for its complexity (1926-1930).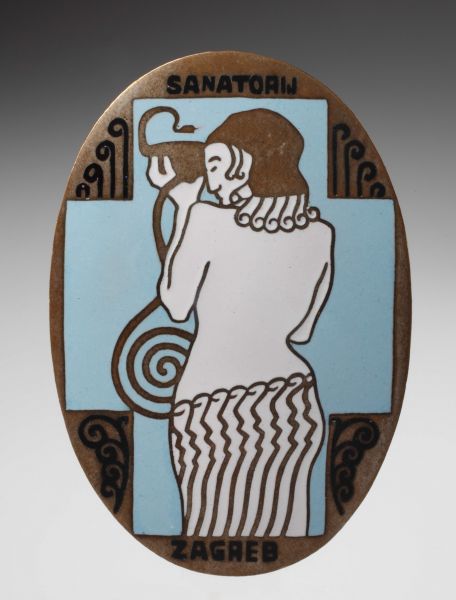 Tomislav Krizman (Orlovac near Karlovac, Croatia, 1882 - Zagreb, Croatia 1955) was a Croatian painter, graphic artist, designer, costume and set designer and photographer. He was one of the most important artists of the twentieth century in Croatia. He studied painting and graphic art in Zagreb with Bela Čikoš Sesija and Menci Clement Crnčić, both excellent Croatian painters. At that time, he started publishing his first prints, caricatures, labels, drawings and illustrations in magazines Život and Vijenac.
From 1903 to 1907 he attended the Vienna School of Arts and Crafts in the class of Professor Felician Myrbach, and on the Vienna Academy in the class of Professor William Unger. During his time in Vienna he came in contact with artistic and literature avant-garde, and exhibited his works with Viennese Hagenbund and Secession, alongside other Croatian artists like Ivan Meštrović and Mirko Rački. He traveled around France, Italy, and Switzerland and specialized in Munich.
During the first few years following his return to Zagreb, he dedicated himself to promoting artistic crafts. Under the influence of Wiener Werkstätte, he designed household objects made of glass, metal, ceramics, wood, paper and leather. Also, he designed fashion accessories and jewelry, and attempted to transfer his own well refined taste in Zagreb atmosphere. In 1910, he established his own Art School in his Zagreb atelier. He thought artistic crafts, whereas the production of most of the designed objects was left to well-known Zagreb art workshops.
In 1912, he became Professor on the Crafts School in Zagreb, and in 1922 he started teaching in the graphics department of the Academy of Fine Arts in Zagreb. He took part in the exhibitions by Art Society (Društvo umjetnosti) in Zagreb, Belgrade and Sofia. Also, he is one of the founding members of the Medulić Society (društvo "Medulić"), as well as a founder of Zagreb Spring Salon (Proljetni salon). He is one of the founding members and promoter of Djelo - Association for the Promotion of Artistic Crafts (Udruženje za promicanje umjetničkog obrta "Djelo") with which he exhibited on the the International Exposition of Modern Industrial and Decorative Arts in Paris in 1925, and on the 1929 Barcelona International Exposition.
Within his multifaceted oeuvre the most significant segment is his graphic art; along with individual prints, he published graphic prints maps. He designed and illustrated books and magazines, as well as made designs for catalogues, posters and booklets. He also worked as a costume and set designer. He particularly dedicated himself in promotion of artistic crafts by establishing his own art school in the period of Art nouveau and by founding art association Djelo, This Association gathered artists devoted to applied arts, thus affirming local artistic crafts and the style of Art deco.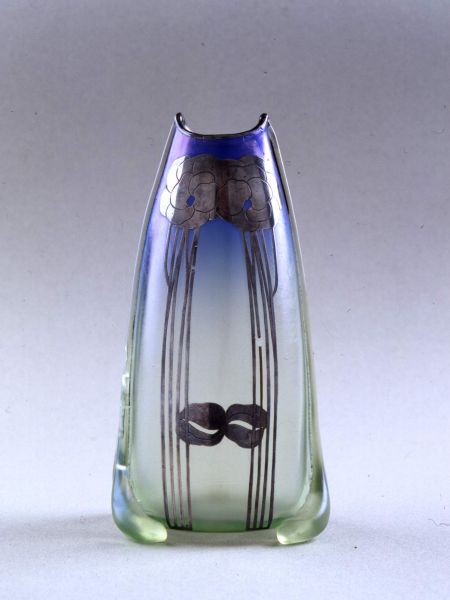 Antonija Krasnik (Lovinac, Croatia, 1874 - Zagreb, Croatia, 1956) was a Croatian painter, sculptor and a versatile artist of international renown. She is known for her portraits and watercolor studies, larger stone and smaller bronze sculptures.
She received her first formal art education in Zagreb with Bela Čikoš Sesija and Robert Frangeš – Mihanović, followed by winning a scholarship for Kunstgewerbeschule, a Viennese school of artistic crafts in the class of Koloman Moser. In Vienna, she came in contact with the spirit of modern art and with Secessionists. Antonija Krasnik distinguished herself with high quality of her works, highly praised and reproduced in the period's expert magazines and reviews concerning School's work.
Even though she dedicated herself mostly to the art of glass, Antonija Krasnik is one of the first Croatian artists who worked on interior design, fabric design, designing dresses and gown she herself wore, as well as designing various other objects of artistic crafts like candelabras, metal vessels, hair pins, tobacco cases and other everyday objects.
Her glass works attracted attention of famous Viennese glass merchants (E. Bakalowitz and J.& L. Lobmeyer) who used her designs, as well as that of Viennese goldsmiths Alexander Sturm and Josef Siess Söhne, and Viennese manufacture of Josef Böck.
After Vienna, she went to the Parisian Académie Julian (E. Carriére) where she stayed until 1905 when she left for Italy. By marrying Baron Rudolf Sommaruga in 1907, she decreased her activities and after 1925 she completely stopped producing art.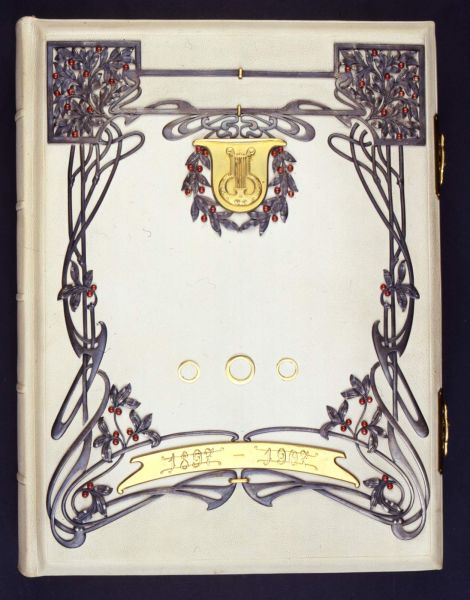 Bela Čikoš Sesija (Csikos – Sessia), (Osijek, Croatia, 1864 – Zagreb, Croatia, 1931) is considered to be one of the most significant painters of Croatian Moderna. He descended from a family of professional military officers and so it is not surprising that he attended the School for Cadets where he distinguished himself as a master swordsman.
Following his promotion to the rank of a lieutenant, he made a radical turn in life and in 1887 went to Vienna to study art, thus permanently focusing on artistic activities. After Vienna, he continued his studies in Munich with Professor Lindenschmidt and later Carl Marr. Atmosphere in Munich was of extreme significance for his art, because he assimilated the influence of Franz von Stuck and Jugendstil. His one-year study trip to Italy was also of formative importance for his work.
From 1895, Čikoš Sesija lived in Zagreb in the atmosphere of dominant radiance centering on the Croatian artist Vlaho Bukovac. He turned to symbolism of spiritual aura inspired by literature.
Alongside Vlaho Bukovac, he participated on Croatian Salon (Hrvatski salon), the first exhibition of the Association of Croatian Artists held in Art pavilion in Zagreb in 1898, with the highest number of artworks. This exhibition marked public recognition of Croatian Moderna.
From this period, his typically symbolist works are considered to be paintings Pieta, Dante in front the Gates of Purgatory, Walpurga's Night, with which he presented himself as the most outstanding symbolist in Croatian painting.
Bela Čikoš Sesija distinguished himself as one of the founding members of the Academy of Fine Arts in Zagreb in 1907. That year marked the beginning of systematic art education in Croatia.
His oeuvre is versatile, and thematically it revolves around mythological, literary and religious inspirations.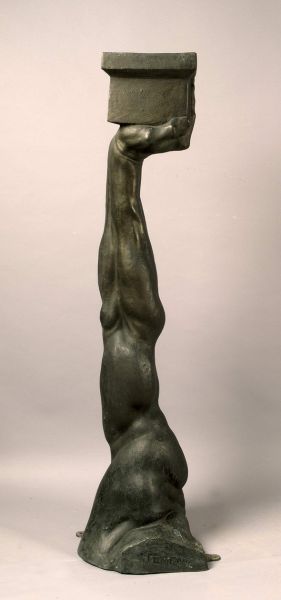 Ivan Meštrović, (Vrpolje, Croatia, 1883 - South Bend, Indiana, USA, 1962) was a Croatian sculptor and architect.
He was born in Slavonia, in a family of peasants, but spent his childhood tending sheep in Otavice, near Drniš in Dalmatia. As a pastime while tending sheep, he carved figures in wood. Themes that intrigued him had their origin in epic poetry, folk songs and historical ballads which he listened to as a boy.
When he turned 16 he went to study with Harold Bilinić, a stone carver from Split. He was the first to notice Meštrović's extraordinary talent. He managed to win him a scholarship to study on the Vienna Academy for which he was prepared by Otto König.
Meštrović began his studies in 1901 and completed them in 1905. In the formative years, a significant influence had the general atmosphere in Vienna, which was marked by the Secessionist movement. For the first time he publically exhibited his works, in 1903 on the exhibition of Vienna Secession. From 1906 to 1914 Meštrović was a member of the Association of Fine Artists of Austria – Secession. He moved to Paris in 1908 where he worked tirelessly. Works from that period gained him international renown.
In 1911 Meštrović was in Belgrade and then in Rome, where he received the first prize for sculpture on the International Exhibition of Art. During the First World War, he traveled and participated in a series of exhibitions in world capitals among which the most important was his solo exhibition in the Victoria and Albert Museum in London in 1915. After the Second World War, he returned to Zagreb, where he taught at the Arts High School (Umjetnička visoka škola), which later became the Academy of Fine Arts. In 1942 he went to Rome, then in 1947 to the United States, where he taught at Syracuse University, and at the University of Notre Dame in South Bend. He was a member of the American Academy of Arts and Letters, and a member of the Medulić Society (društvo "Medulić") in Split, Croatia.
His strong artistic personality manifested itself not only in sculpture, but also in architecture, painting and writing, as well as in public and political activities.
Early works, including Fountain of Life as one of his first masterpieces made in 1905, deal with symbolist themes. The aforementioned work was inspired by Rodin's method of movement of form and achieving active surface of the sculpture by light and shadow. Ever since his childhood, historical myths had been his preoccupation, so in 1908 he made the Kosovo cycle, whose sculptures are considered to be his best works.
In the eve of the First World War he turned to religious themes in which the pathetic stylization gives way to the expression of emotional states. After the War, a long fertile period marked by sensual sculptures and a series of public monuments took place. At that time he developed his understanding of the monument as a plastic sign with marked-to-read outline.
Meštrović is the most prominent Croatian sculptor of 20th century and one of the few of our artists whose work experienced world recognition in its time.