Featured Artists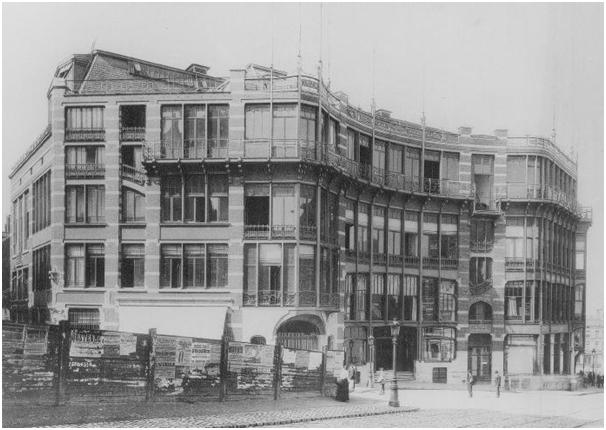 As a dominant figure in the European Art Nouveau movement, Victor Horta (1861 - 1947) caused a rift in the history of architecture with the Hôtel Tassel in 1893. Moving away from traditional construction plans, he had the building bathing in abundant light spreading across the heart of it through a light shaft. An admirer of Viollet-le-Duc, Horta based his approach on a search for transparency, leaving the building's support structure visible. Furthermore, his projects were characterised by the introduction of a new ornamental vocabulary containing stylized plants of which he captured the power in their undulating movement. The decorative metalwork of the Maison du Peuple is a clear example of this.
 Gustave Strauven (1878 -1919) was the enfant terrible of Brussels' Art Nouveau scene, his career as short as it was flamboyant. After having worked for Victor Horta as an artist, he moved on to design a dozen homes for the middle classes, between 1899 and 1906. Trading stone for polychrome bricks, Strauven developed a truly original style, characterized by exuberant decorative metalwork that brought some of Horta's themes to a climax (see: Hôtel Saint-Cyr).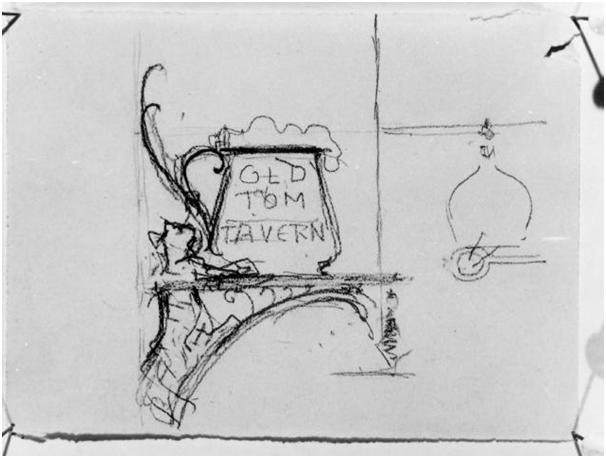 Paul Hankar (1859 -1901) was a pioneer of Art Nouveau, alongside Horta, whose personal take on the movement was influenced by local traditions in architecture and by the constructive rationalism he inherited from Viollet-le-Duc's doctrine. His personal home, built in 1893, shows that his innovations relied more on the confirmation of constructive logic and the validation of materials (brick, stone, iron, sgrafito) than on the construction plan, which stayed true to tradition. His brilliant career was cut short in 1901 by his premature death (see: Croquis pour deux enseignes – Draft for two signs).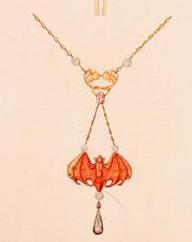 Philippe Wolfers (1858 -1929) was a goldsmith, sculptor, stained-glass artist and jeweller whose work was profoundly influenced by symbolism and japonism. His creative universe is riddled with bats and butterflies symbolising the mystery of night, sensual and sometimes malicious women, irises, swans, peacocks and reptiles. To realise his creations, aimed at a well-off clientele, he used a diverse array of materials: metals, precious stones, crystal, ivory and different sorts of glazing (see: Projet de bijou, "Chauve-souris" et "Cacatoès » - Jewellery project, « Bat » and « Cockatoo » ).
Octave Van Rysselberghe (1855 -1929), brother of painter Théo Van Rysselberghe, was an Art Nouveau architect whose work was clearly influenced by classicism and who adopted the spatial plasticity of Horta and the Arts and Crafts. He collaborated with Henry Van de Velde on the conception of two remarkable hotels de maître in Brussels, the Otlet Hotel (1894-97) and the De Brouckère Hotel (1900). In his personal style, meandering between restrained and extremely refined, he erected an immense staircase, bathing in light, which is the axis of the construction.
Alphonse Mucha (1860 - 1939), Affiche « Imprimerie Cassan fils » - Poster « Printing Business Cassan son »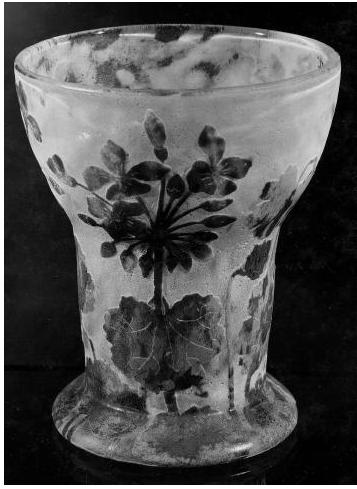 From 1887 onwards, Antonin Daum (1864 - 1930) associated himself with the glass manufactory his father had taken over a decennium before. Daum led the factory's production in an artistic direction. Echoing the period's trends, he consorted with Louis Majorelle and Emile Gallé, who would design some of the masterpieces in Art Nouveau. Linking art and science, Daum introduced certain avant-garde processes like images in relief and intercalaire-decorations, applied between two layers of glass (see: Vase).