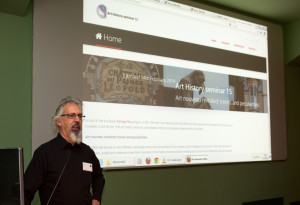 At the end of February 2014 the Art Nouveau conference "Art Nouveau Revisited – Trends and Peculiarities" took place in Brussels, Belgium. The conference dedicated to the study of Art Nouveau was organized by KIK-IRPA (Royal Institute for Cultural Heritage).
Emphasis was laid on the different coexisting trends and peculiarities of art nouveau, both in Belgium and abroad. Freed from the yoke of historicism, artists and craftsmen drew their inspiration from highly diverse sources, revisiting local cultures and celebrating secular artisanal techniques (wrought iron, hammering, sgraffito, ceramics, stained glass…) and regional materials. The invention of this unique decorative vocabulary was enriched by the assimilation of organic forms inspired by nature, archetypes of industrial civilization as well as japonism.
The symposium was a unique opportunity to present the variety of examples from our cultural heritage as well as to exchange point of views on the matter. Several Partage Plus partners delivered presentations during the two days conference.