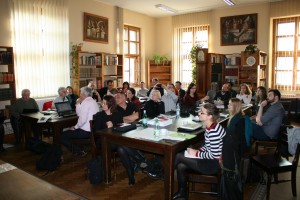 The National Museum in Warsaw organized an international conference dedicated to the Art Nouveau movement. "Fin de siècle rediscovered. A mosaic of the end of a century: artists, events, societies, activities" took place on 25th-27th February 2014 in the beautiful Polish capital, Warsaw. The conference was prepared in participation with the National Museum (MNW) in the Partage Plus consortium. The Partage Plus project sparked research which has brought to light a large group of hitherto unnoticed works which have not been studied in a wider cultural context. Broadening of the range of accessible works will change the perception of much of the art created around 1900 preserved in major museum collections.
Colleagues from the Royal Institute for Cultural Heritage Belgium (KIK-IRPA), the Collections Trust UK (CT), the Austrian Museum of Applied Arts/ Contemporary Art Vienna (MAK), the Design Museum Gent, Belgium (DmG), the Design Museum Finland (DMF), the Museum of Applied Arts Budapest, Hungary (IMM) and the Wojciech Weiss Museum Foundation Krakow, Poland (WWMF) delivered presentations dealing with various aspects of the Art Nouveau movement in different European countries. The conference languages were Polish and English.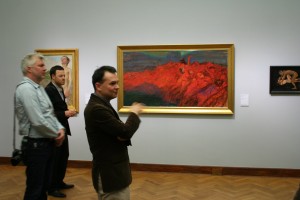 At the same time also the second Partage Plus plenary meeting took place in Warsaw. Its aims were to update all consortium on the status of each work package, make decisions on how to conclude the project, celebrate the outcomes of the Partage Plus project and discuss the results of the second project review. On the last day of the meeting (Thursday) partners were given the opportunity to talk about their results of the Partage Plus project.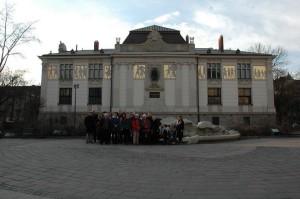 Piotr Kopszak from the National Museum in Warsaw entertained participants with informative tours through the museum presenting highlights of the rich collection (The National Museum in Warsaw boasts a collection numbering around 830,000 works of art from Poland and abroad, from ancient times to the present including paintings, sculptures, drawings, prints, photographs, coins, as well as utilitarian objects and design.). Evening meals at traditional Polish restaurants introduced hungry partners to the gems of Polish cuisine. On the last day of the meeting an excursion to Krakow and its Art Nouveau highlights organized by the Wojciech Weiss Museum Foundation (WWMF) was scheduled.