Close-up
Partage Plus provides the ideal opportunity to closer examine Design museum Gent's Art Nouveau collection. On a regular basis this section places a chosen object or ensemble, that is often not on display, in the spotlight. You get to know the story behind the piece and can look at it in detail with the different pictures.
The first object in Close-up is an inkwell made by Adrien Dalpayrat and Edouard Colonna (?) for Bing's L'Art Nouveau.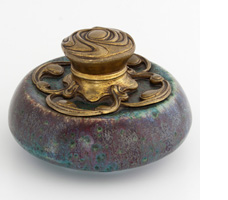 Inkwell
Adrien Dalpayrat and Edouard Colonna (?) for L'Art Nouveau
red-green glazed stoneware, gilded bronze mount
stamped on the bottom: L'Art Nouveau / Bing, impressed on the bottom: a flaming ball
Bourg-la-Reine (F) (stoneware) and Paris (F) (bronze), ca. 1898-1903, inv.nr. 2003/101
Siegfried Bing opened his parisian art gallery L'Art Nouveau in 1895. He engaged the best artists who were working in the new style that was en vogue in Paris and Brussels. For designs and realisations of stoneware with flaming fluid glazes ('grès flammés') he appealed to Adrien Dalpayrat (1844-1910). Since 1889 this ceramist headed a ceramic workshop in Bourg-la-Reine, a rural community ten kilometers south of Paris. It did not take long before Dalpayrat became famous for his oriental inspired models and glazes.
The stoneware inkwell with fire gilded bronze mount was commissioned by Bing for L'Art Nouveau. The ink mark on the bottom of the inkwell proves this. All items were sold exclusively in the gallery, where beside a permanent collection temporary exhibitions were presented. Bing's great breakthrough with the international public came at the 1900 Paris World Exhibition. However, declining sales figures forced Bing to close his gallery and adjoining workshops in 1904.
The fire gilded bronze mount is attributed to the virtuoso designer Edouard Colonna (1862-1948). He worked for Bing from 1898 till 1903. If the attribution is correct, the inkwell can be dated in this period. The integration of the mount and the pot is very good. The flowing lines on top of the lid evolve into a whirling movement towards the stylised plant motives, that delicately descends into the softly flowing fluid glaze.
Eager to learn more? Check out the Close-up section of DmG`s website!