Since 2009 Design museum Gent sheds a yearly light on parts of its extensive collection in the Cahier publications. Edition 2012 deals with the Wolfers collection.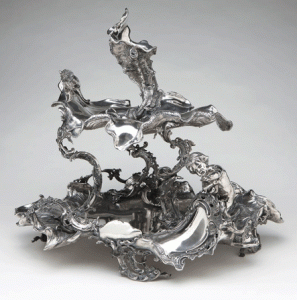 The house of Wolfers was the leading silver company in Belgium from the mid-nineteenth century till the 1970s. Between 1885 and 1929 Philippe Wolfers probably was the country's most important designer of silver and artistic sculpture. Philippe Wolfers (Brussels, 1858-1929) started as a designer-silversmith in the workshop of his father Louis in 1874, which he took over with his two borthers in 1897. In the 1890s, in addition to earlier Japanese influences, nature became a significant component of Philippe's repertoire: numerous studies of fauna and flora formed the precursors of the later Art Nouveau creations. Between 1897 and 1905, no fewer than 136 Art Nouveau works left his workshop. The success of these "pièces uniques" may be judged from the fact that of the 109 jewels, 17 vases in crystal or ivory and 10 articles of silverware with enamelling and precious stones, as many as 131 items were marked "Sold" in his painstakingly updated "Catalogue des Exemplaires uniques". Since 1902 Philippe Wolfers had been gradually transforming the language of the Art Nouveau into a symmetrically and geometrically stylized composition.
His art nouveau designs are iconic, and his swift evolution towards the art deco style lifted the firm to new international heights. His son Marcel Wolfers continued the legacy and made sure the company stayed at the forefront of Belgian silver design during the fifties.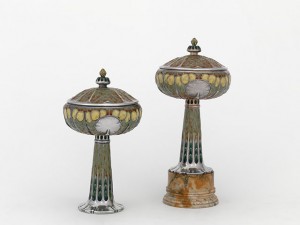 Design museum Gent owns a fairly large collection of objects made by the Wolfers firm. They offer a unique view of the evolution of silverware and objets d'art from the third quarter of the 19th century till the outbreak of World War II. The most spectacular designs are on display in the museum, like the Maraudeur series, the cups Monnaie du Pape and vases Magnolia, a stylised art nouveau toilet set, and the Gioconda service, designed for the ground-breaking 1925 Exposition Internationale des Arts Décoratifs (et Industriels Modernes) in Paris.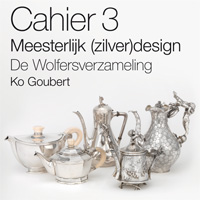 The richly illustrated Cahier 3 is written by Ko Goubert, formerly researcher at Design museum Gent (January 2011-March 2012). He has researched every object extensively. In addition to all silver and and other applied art objects made by Wolfers, the museum's collection of furniture made for the private Wolfers residences is included in the catalogue. This approach contributes to a deeper understanding of the Wolfers production and of the art nouveau and art deco in Belgium in general.
The catalogue forms a part of Partage Plus, the Europeana project for the digitization and opening up of Europe's art nouveau heritage.