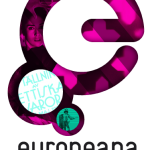 The Europeana portal has launched its new interface, giving the portal a fresh new look. As the website describes, the site has now become responsive. That means it automatically adapts to a range of different devices and screen sizes. So whether you're using a touchscreen smartphone or a large desktop, the portal will tailor its presentation so the layout always suits the screen.
In addition, searching is even easier with new automatic suggestions that pop up as you type. We'll predict what you're looking for and make recommendations based on that, before you've even finished typing.
The new homepage includes a stronger focus on our curated content, with a bigger image slideshow, a featured partner section and a great carousel highlighting our latest pins on Pinterest.
Material digitised in the framework of the Partage Plus will soon be featured on the redesigned Europeana portal, including 3D models of objects. You can get more information on the portal  - and you can sign up to the Europeana newsletter – on this page. To  discover treasures from Europeana's open content archives, you may also want to have a look at the Europeana blog.