"Vojtěch Preissig"
concept and text: Lucie Vlčková
Published in 2012 by the publishing house Arbor Vitae in Řevnice and Museum of Decorative Arts in Prague as the first volume of the series Design – profiles – key figures.
Available in Czech and English edition.
ISBN: 978-80-7467-032-9 (English edition)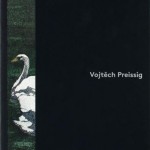 Vojtěch Preissig (1873 Světec u Bíliny – 1944 Dachau) was one of the most prominent Czech artists of the first half of the 20th century and his influence on the fields of typography and graphic design extended well beyond the borders of his homeland. Abroad, and particularly in the United States, where Preissig worked from 1910 to 1930, he was much more appreciated in these two professional circles than he was in Czechoslovakia, where for a long time his work was not properly understood and therefore lacked acknowledgement.
The publication sums up current knowledge and for the first time presents the complete facts on Preissig's rich body of work as a designer, which encompassed a wide range of activities, from bespoke graphics, to work on books and periodicals, to creating ornamental patterns and designs, right through to typography. Preissig's American period includes the key time he spent teaching at the Teachers College of Columbia University in New York and in particular at Wentworth Institute in Boston, his work for a number of publishing houses, and finally his successful war posters, assessed here for the first time within the context of his work as a whole. The publication traces the fate of the artist and his work within the context of his era, and looks back reflectively on Preissig's work during his individual creative periods. These are presented in chronological order, from his Parisian period, characterised by the influence of Alfons Mucha on Preissig's work and his discovery of the craft of graphic design, to his Prague period, a time of bold ambitions culminating in disillusion and in the collapse of his own studio, followed by the 'American dream' period, interrupted by the First World War, and then eventually presenting Preissig with the dilemma about returning home, and finally his ultimate turn towards a new vision, the optimistic pursuit of which was however definitively thwarted by the onset of the Second World War.
The publication presents previously unpublished facts about Preissig against the backdrop of the artist's thrilling life and career marked by a series of fateful turning points, successes, failures, heroism, and tragic events.