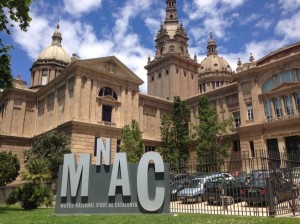 It's not often that you get to combine business with pleasure, but Katie Smith from the Collections Trust did just that whilst on holiday in Barcelona on the 22nd May. Partners in the project, the Museu Nacional d'Art de Catalunya (MNAC) were doing their 3D scanning for the project, so Katie and her friend took the opportunity to have a look around.
Quim Soler and Mariàngels Fondevila from the museum greeted them, giving them a guided tour of the museums collections, store and 3D scanning. Beautifully displayed, the museum's galleries recreate the impression of how the original rooms and furniture would have looked in their original setting. The museum holds one of the most important collections of Modernisme in Catalonia, displaying works by Antoni Gaudi, Alphonse-Marie Mucha, Ramon Casas and Josep Llimona amongst others.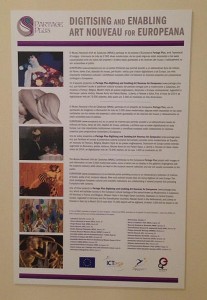 MNAC has highlighted Partage Plus within their galleries as an important way in which they are opening up access to these masterpieces of Art Nouveau. All of the works being digitised for the Partage Plus project have been labelled, and display panels have been hung in the galleries which inform visitors about the project…they are even digitising an Art Nouveau chapel!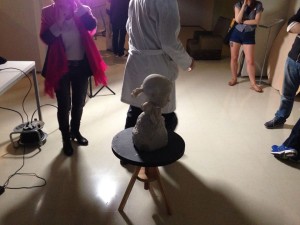 They also discussed some of the difficulties they have come across whilst doing their 3D scanning, such as digitising upholstered furniture with very intricate details, and as the photos show, the difficulties of scanning sculptures without a flat base. The project is very excited to be bringing these masterpieces of Catalan Modernisme to a wider audience through Europeana (www.europeana.eu) and urges any visitors to Barcelona to spend an afternoon taking in the beauty of the Museu Nacional d'Art de Catalunya.