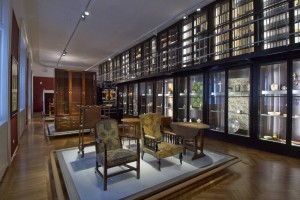 The fascinatingly complex cultural epoch denoted by the term "Vienna 1900" has long been the stuff of legend. And the equally multifaceted and momentous output of this period's artisans and designers is now the focus of a newly completed section of the MAK Permanent Collection.
Visitors are invited to engage in a multilayered examination of the "Vienna 1900" phenomenon that covers three rooms. This section of the Permanent Collection, which had gone unchanged since 1993, is the first to have been reconceived. The new presentation's content was developed by Christian Witt-Dörring together with the museums' collection curators, and the Viennese designer Michael Embacher was responsible for the individual rooms' design.
VIENNA 1900. Design / Arts and Crafts 1890–1938 adheres to a largely chronological structure: the first room is dedicated to the search for a modern style; the second room features a close look at the Viennese style; and the third room points the way to the International Style. Around 500 collection objects are shown in various thematic combinations that serve to shed light on art-historical and sociopolitical aspects relevant to Viennese modernism.
For further information:
http://www.mak.at/en/program/event/vienna_1900_6?reserve-mode=active
Copyright: MAK/Georg Mayer