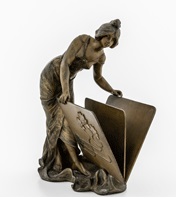 We are happy to inform you about a great update to the website of the Design museum Gent. You can now take a look at the first results of the 3D scanning!
In June 2013 Partage Plus project partner Steinbichler Optotchnik scanned over 100 objects from DmG`s turn-of-the-century collection in 3D. A big job, whereof you can find an extensive coverage HERE (video about 3D scanning at the Design museum Gent in June 2013). Several types of objects and materials, like thin handles and silver, proved to be unsuited for 3D scanning. On the other hand base metals and ceramics provided no problems. The Flemish ceramicists from the turn of the century could probably never have foreseen that their creations would be placed upside down on a turntable bathing in flashing light …
If you want to catch a glimpse of some Art Nouveau gems from the turn-of-the-century collection of the Design museum Gent visit the updated Partage Plus project site!
Here you can find 3D images of artworks such as:
- Ornamental jug with grapes, ceramic workshop Maes, Sint-Amandsberg (BE), 1899-1920,
- Die Rheintöchter, porcelain manufactory Zsolnay, Pécs (HU), ca. 1903,
- Bowl with moth, Gabriël Argy-Rousseau, Sèvres (FR), ca. 1915-1920,
- Lady with vide-poche, Karl (Charles) Korschann for Louchet, Paris (FR), ca. 1900,
- Bedchamber chair, Henry van de Velde, Brussels (BE), ca. 1899.